Welcome to the dental office of Lawrence W. Morris D.D.S...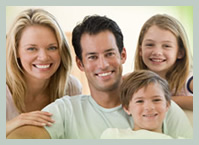 Our practice was established in 1998 and is conveniently located in the Pecan Valley area of Southeast San Antonio, just off of Interstate 37 and Loop 410. Our mission has continually been focused around caring for our patient's dental needs and attempting to prevent any future problems from occurring. We orient all of our efforts around dental maintenance and prevention, all while striving to create healthy and beautiful smiles.
If you are looking for a relaxing dental experience where you will always be treated with personalized service and attention to details, we hope you'll come on in and see what we have to offer. Our office is located in a tranquil, natural setting on a wooded lot that spans over an acre. For your enjoyment, all three of our operatories and dental chairs are positioned facing a huge back wall of windows that look over the entire property. From the comfort of your dental chair, you can relax and enjoy listening to all the birds singing while watching the squirrels and other wildlife play amongst all the beautiful red-tipped trees. At our practice you can rest assured that you and your family will be cared for by trusting, competent, and highly trained dental health professionals.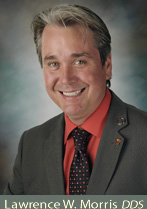 Dr. Lawrence Morris himself is a lifelong San Antonio native who has been in practice locally for over 15 years. He graduated from University of Texas at San Antonio with a major in Biology, and then graduated from the #1 ranked dental school in the country, University of Texas Health Science Center at San Antonio Dental School, with Honors in Research. Dr. Morris is a Clinical Associate Professor and has been teaching at the UTHSCSA Dental School for over 17 years in the areas of Occlusion and Dental Anatomy. Dr. Morris is joined in his practice by Lisa, his dental hygienist with over 18 years of experience, Becky and Erika, dental assistants, and his long-time office manager, Debbie.
Aside for caring for patients in his own practice, Dr. Morris also serves as a Dental Director for five nursing homes and assisted living facilities in San Antonio. Through his extensive training in geriatric dentistry, he works closely with the homes in doing regular dental screenings and interventions in order to ensure that the residents are receiving quality dental care and maintaining the highest quality of life.
In 2007, Dr. Morris was named Top Dentist in San Antonio by Scene Magazine, while in 2009 he received the honor of being named Super Dentist by Texas Monthly Magazine. These recognitions were made by his professional colleagues. Aside from these awards, Dr. Morris is also proud to be a member of numerous dental associations, academies, and study clubs, including: American Dental Association, Texas Dental Association, San Antonio District Dental Society, American Academy of Fixed Prosthodontics, American Equilibration Society, International and American Association for Dental Research, Academy of General Dentistry, American Dental Education Association,  Hispanic Dental Association, Pecan Valley Study Club, San Antonio Implantology Study Club, and South Texas Advanced Restorative Seminars Study Club.